Italian Historical Society of America
There are many instances of the creative expression of the human spirit by those of Italian heritage. In this section we focus on art and prose and poetry.
---
Dante Alighieri (1265-1321)

Born in Florence to a family of some aristocratic prominence, Dante's early studies of poetry, literature, and Christianity, were guided by his family's alliance with the Guelps – those in support of papal rule over that of an emperor. His subsequent study of philosophy and his political leanings formed the background for his classical works. Dante's mother died when he was a child, and at 12, his wedding had been arranged; but three years earlier he had met Beatrice, and she would become the subject of many of his poems. Dante was married when Beatrice died at the age of 20, and in Vita nuova (New life), completed in 1294, Dante writes of his love for Beatrice.When the Guelps split in 1302, Dante was banished from Florence. During his exile he traveled throughout Italy, and wrote in Latin and Italian many poems among them De monarchia, Il Convivio, De vulgari eloquentia, and Commedia, better known as The Divine Comedy, detailing the journey through Inferno and Purgatorio to reach Paradiso.
Written by Janice Mancuso

---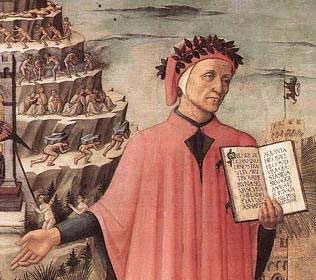 ---
---
---
---
Leonardo daVinci (1452-1519)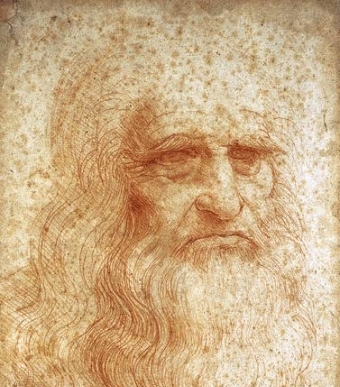 ---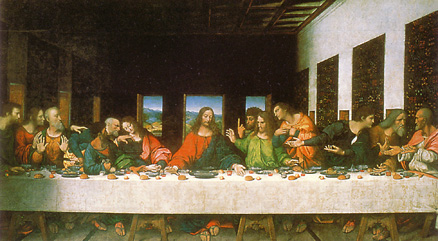 ---
Artist of two of the most well known paintings in the world, Mona Lisa and The Last Supper, da Vinci is also recognized for his discoveries in various fields of science – anatomy, astronomy, biology, geography, geology, mathematics, paleontology, physics, and zoology – and for his technological inventions as a civil and military engineer.
.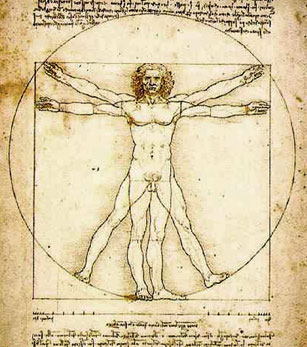 ---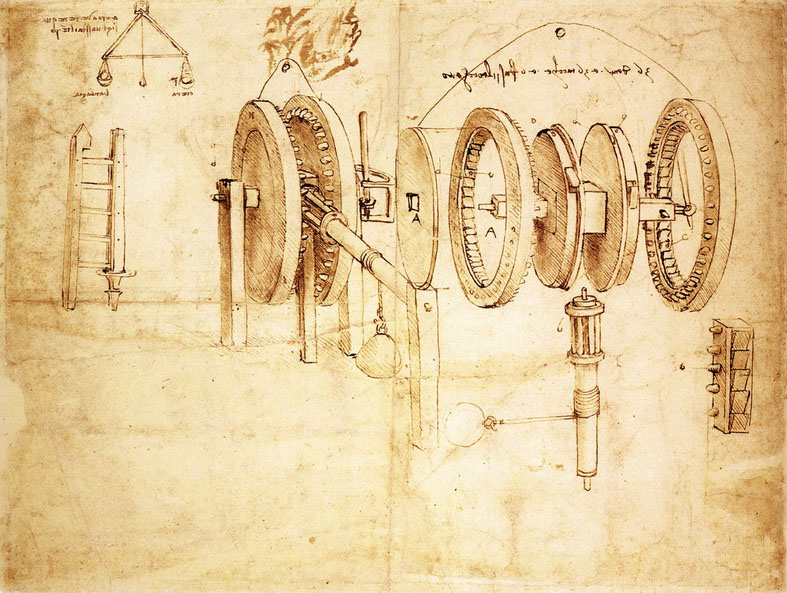 ---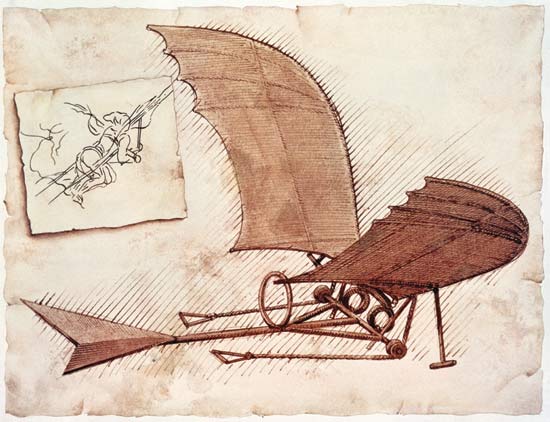 ---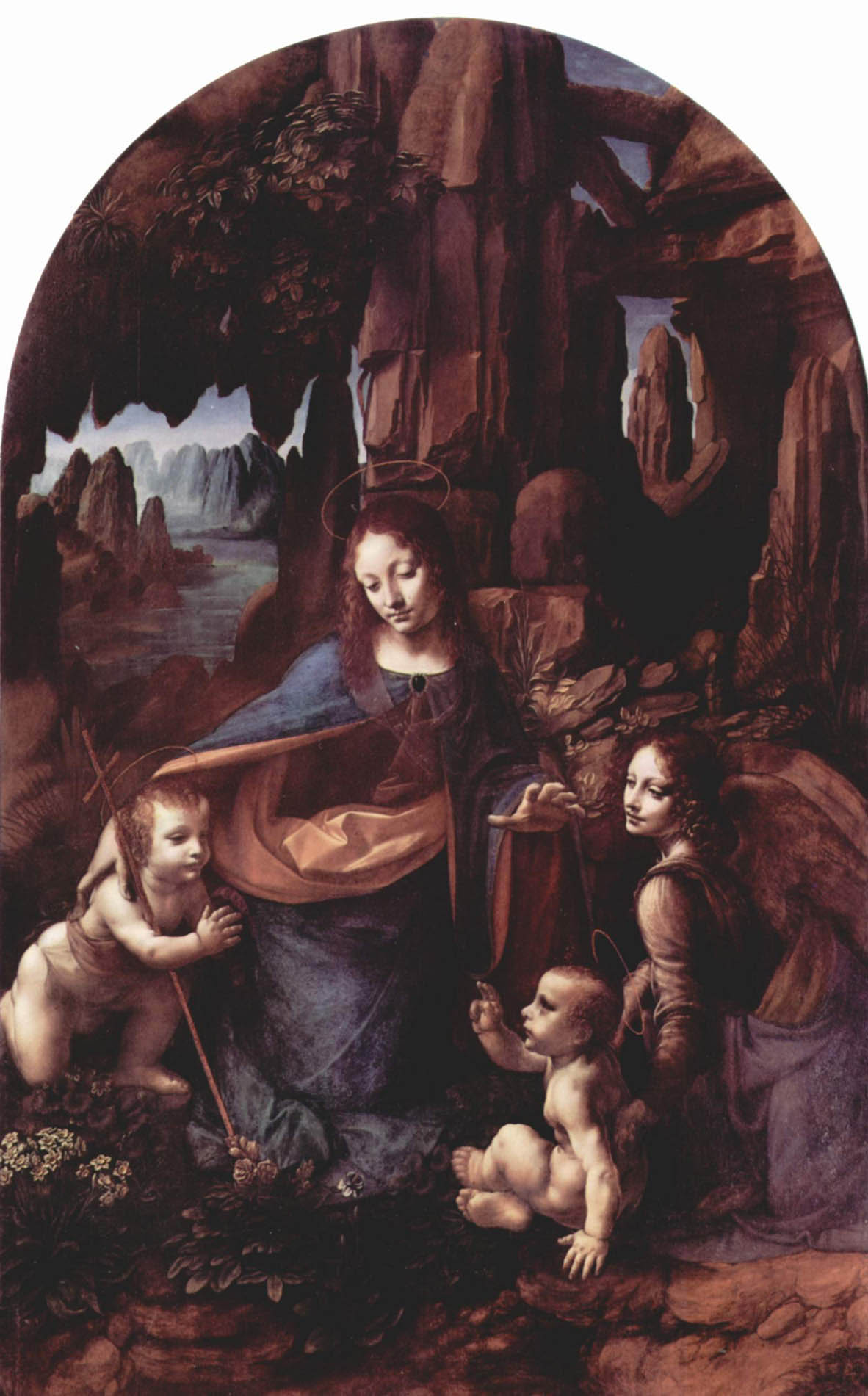 ---
At 17, he began his apprenticeship in Florence as an artist, and in 1481 he began work on the altarpiece, Adoration of the Magi. It was not completed when he moved to Milan the following year, to join the court of Duke Ludovico Sforza. During his 17 years at the Sforza court he painted portraits; designed costumes and stage sets for festivals; studied anatomy, machinery, motion, perspective; proportion, and expression; and made hundreds of drawings and notes. He also completed the first Madonna of the Rocks and fresco of The Last Supper. His 1492 drawing of Vitruvian Man, known worldwide, is a tribute to his study of human proportion.
---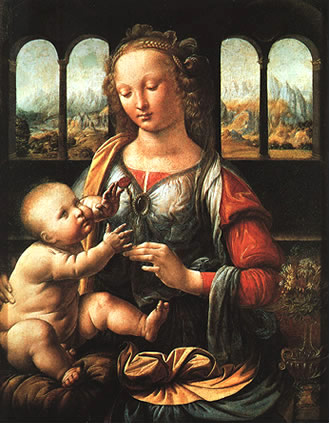 ---
In 1499, Milan fell to the French and da Vinci went back to Florence. He painted the portrait, Mona Lisa, and continued to pursue his scientific interests, adding optics and hydraulics to his list. In 1516, François I, King of France, invited da Vinci to join his court as "first painter, engineer and architect to the King;" and da Vinci stayed until his death in 1519
Written by Janice Mancuso

Here are some other relevant websites:
Leonardo da Vinci National Museum of Science and Technology in Milan
---
Michelangelo [Buonarroti] (1475-1564)
Considered a true Master of Renaissance art, and one of the most acclaimed artists in the world, Michelangelo showed an early interest in sculpture. With his noble Florentine family background, he was schooled in Latin, but Michelangelo's interest in art inspired him to study painting, and later sculpture, under respected artists of the time. He was accepted into Lorenzo de' Medici's Garden of San Marco, where the gathering of artists and humanists would further influence Michelangelo's craft. There he studied anatomy and created two bas-reliefs by the time he reached 17.

After the death of Lorenzo, Michelangelo practiced his art in Bologna, then went to Rome, where his reputation preceded him. During his time there, he was commissioned to sculpt several works, among them Bacchus and Pietà. In 1501, Florence became a republic, and Michelangelo returned. He was commissioned to produce another great statue, David, and then summoned back to Rome by Pope Julius II to paint the ceiling of the Sistine Chapel, which took four years to complete. Michelangelo continued to sculpt and paint – creating the fresco, The Last Judgement over the altar of the Sistine Chapel. He wrote a series of poems and at the age of 70, accepted the job of architect of St. Peter's Basilica.
Written by Janice Mancuso

Here are some other relevant websites:
The Sistine Chapel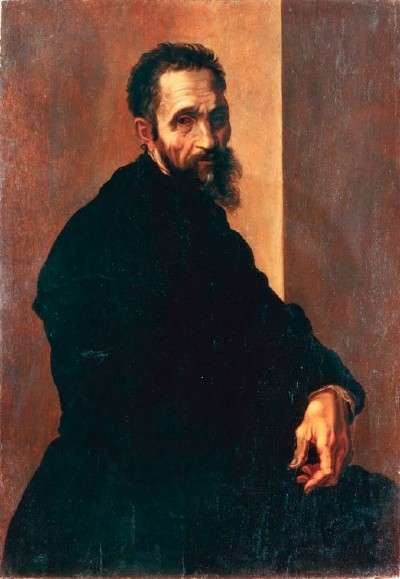 ---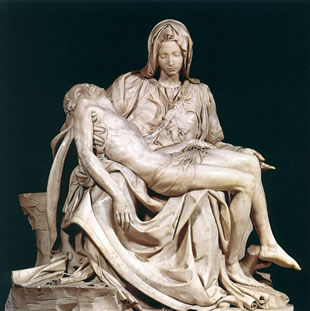 ---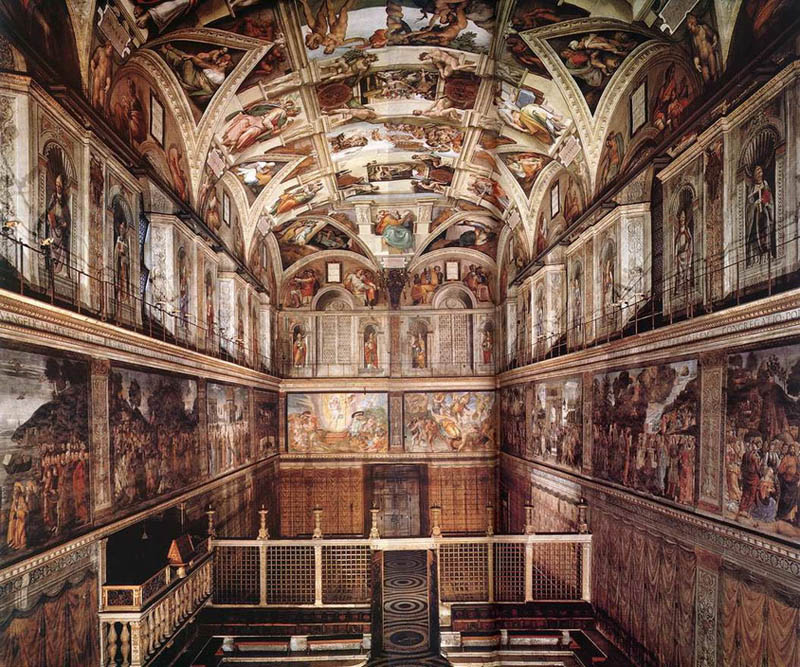 ---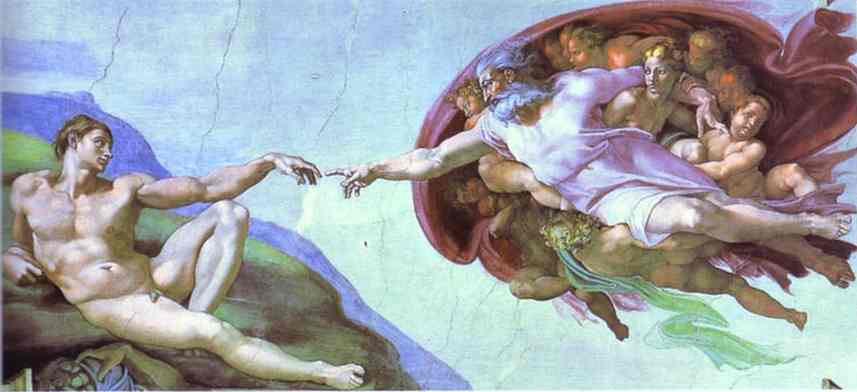 ---
Giotto di Bondone (c.1267-1337)
Credited as an inspiration for Michelangelo, and as the artist that inspired a new form of realistic painting in the early years of the Renaissance, Giotto di Bondone, known as Giotto, was the master of the fresco. His natural approach to painting figures and landscapes translated the walls of many churches into sanctuaries of religious art, and his artistic talents expanded to sculpture and, towards the end of his life, architecture.
In 1334, Giotto was appointed master architect of the city of Florence, and he designed the famous Campanile (bell tower) of the Florence Cathedral, a focal point of the city's skyline. At 269 feet, the tower has 414 steps and provides a magnificent panoramic view of Florence.
Written by Janice Mancuso

Here are some other relevant websites:
Olga's Gallery
Collection of Giotto's Works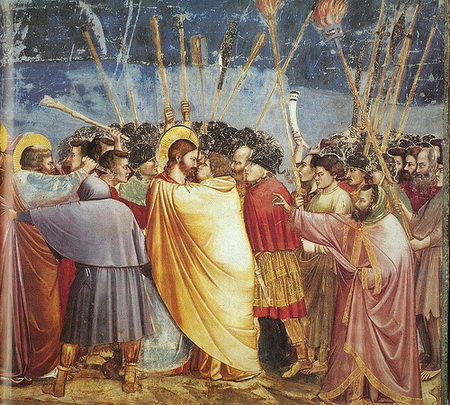 ---
Constantino Brumidi (1805-1880)

THE MICHELANGELO OF THE CAPITOL

In a recent gathering of public officials in Washington, D.C to celebrate the second centennial of Constantino Brumidi's birth, Senator Hillary Clinton said that Brumidi "came to this country to find a better life and, in the greatest tradition of our nation, made an indelible mark on our history." Brumidi, who has been called the Michelangelo of the Capitol, has impacted our lives with his breathtaking artistic accomplishments.Constantino Brumidi was born on July 26, 1805 in Rome. He later studied at the Italian Academy of Arts in Rome. Apparently because of the occupation of Rome by French forces in 1849 Brumidi immigrated to the United States where he became a citizen in 1852. Brumidi settled in New York City where he supported himself as a portrait painter. As his reputation grew he was engaged to produce more significant works such as the "Crucifixion" and other art at St. Stephen's Church on East 28th Street. Here he also painted the "Martyrdom of St. Stephen" and the "Assumption of the Virgin.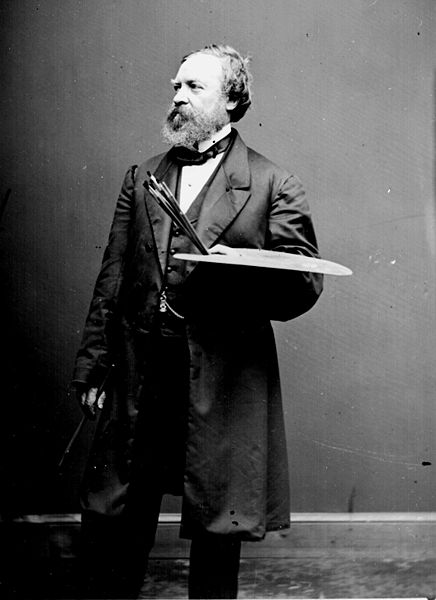 ---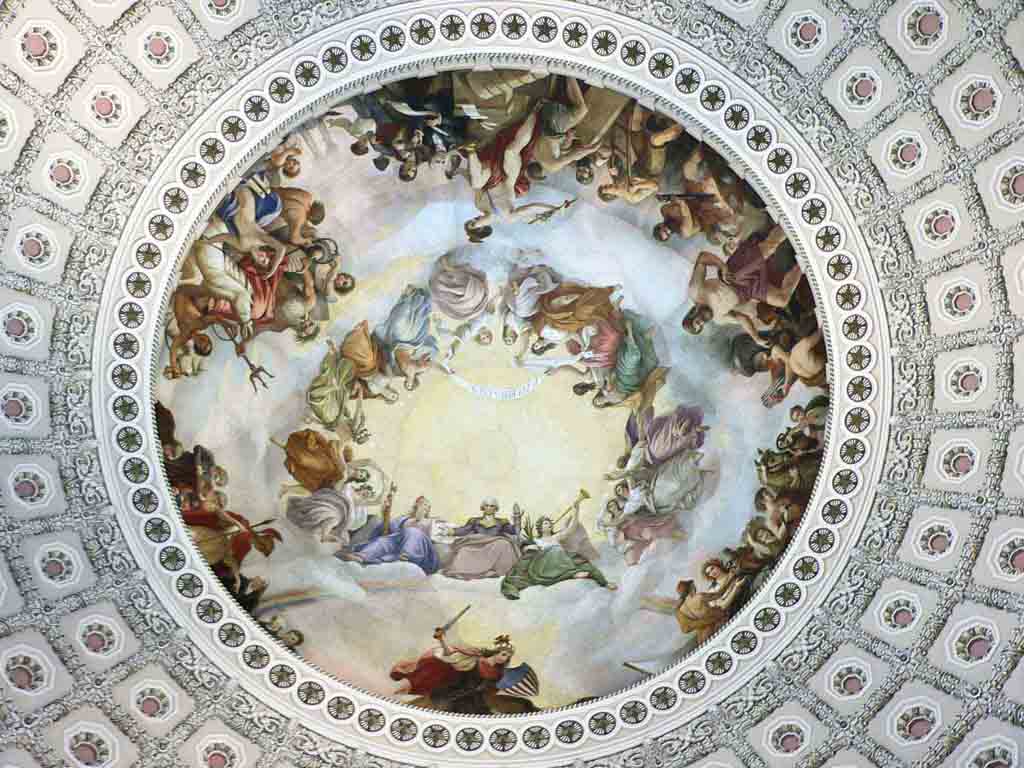 ---
In 1854 Brumidi travelled to Mexico City to produce the "Holy Trinity" in the Cathedral. On his way back to New York he visted the Capitol Building in Washington D.C. The possibilities for his artistic talent to be expressed on the walls of this majestic building led Brumidi to offer his artistic services. His offer was accepted and by the following year he had begun his work in the Capitol. He devoted a major part of his remaing 25 years to the decoration of the capitol. His works in that building are unsurpassed. Brumidi died on February 19, 1880 at his home at 921 G Street N.W. in Washington.

One of Brumidi's best known works of art is his Apotheosis of George Washington found in the dome of the Capitol in Washington.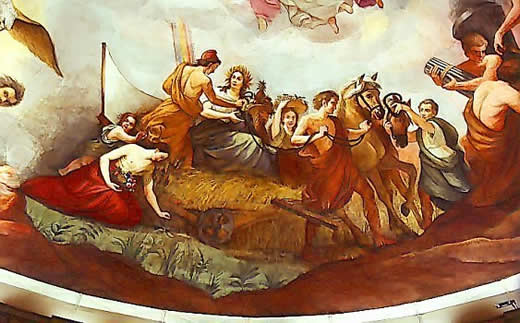 ---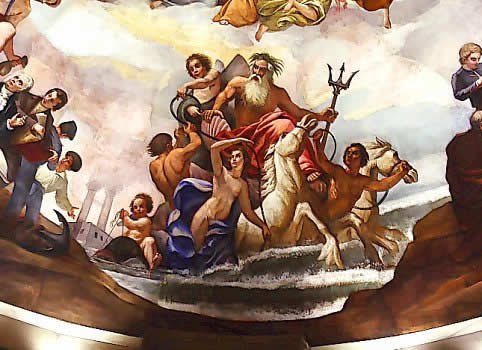 ---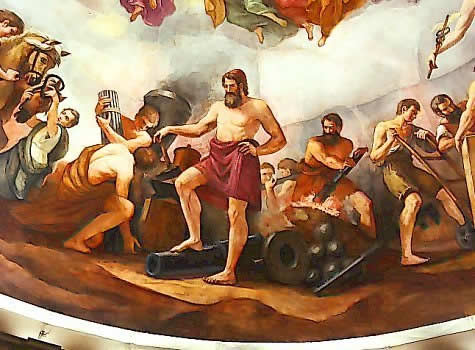 ---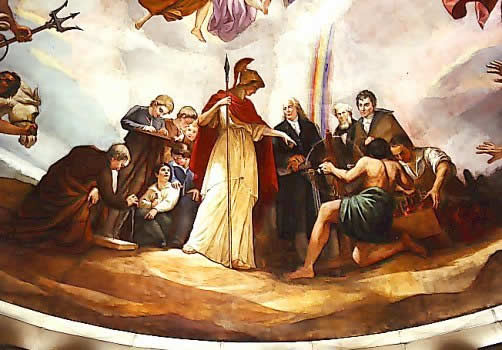 ---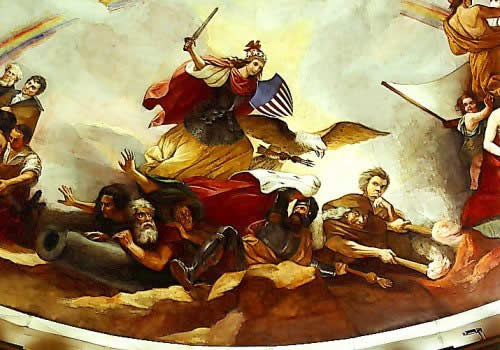 ---

---
Constantino Brumidi has come to be known as the Michaelangelo of the Capitol. He had many talents including being able to simulate three dimensional objects in two dimentional painting. This panel which is one of 19 friezes that encircle the rotunda of the Capitol of the United States in Washington, D. C. is one example.
---
Giovanni Bellini (c.1430-1516)
Working with his brother, Gentile, as an assistant in his father's studio, Bellini's early style of painting – mostly tempura on wood – showed the Gothic influences taught by his father, Jacopo. Most of Bellini's initial works appear more structured and less dimensional, with somewhat angular forms. By the mid-1470s, Bellini painted with oils, and his work became softer, with a greater emphasis on color and light. His later style is contributed, in part, to his brother-in-law, Andrea Mantegna, considered a master of perspective.
Many of Bellini's paintings are religious in nature, with the Madonna, Christ, or various saints as the central figure, most in landscaped scenes; and his depictions of Madonna with Christ show a mother's depth of emotions. Bellini also painted altarpieces and historical portraits, and received more commissions than he was able to complete.
Bellini is cited for his contributions to Venetian art during the Renaissance, and through his workshop he influenced many painters of the Italian Renaissance, most notably Titian (Tiziano Vecellio) and Giorgione (Giorgio Barbarelli da Castelfranco).
Written by Janice Mancuso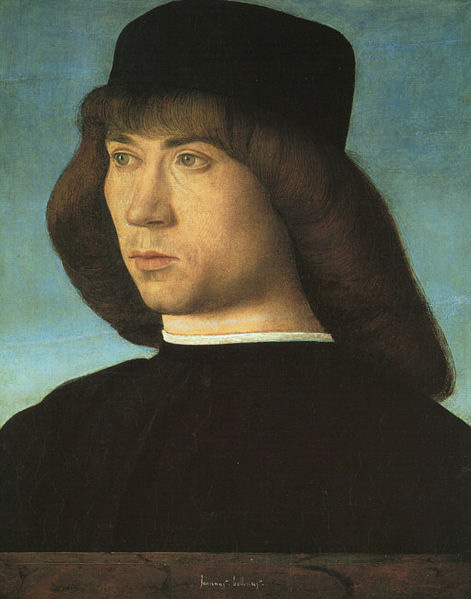 ---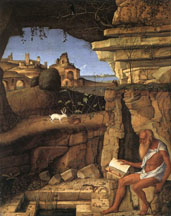 ---
---
---
Gabriele D'Annunzio (1863-1938)

Considered one of Italys leading writers of the late nineteenth and early twentieth centuries, at 16, Gabriele DAnnunzio made his debut as a poet with Primo Vere, a collection of his works. It was followed by another collection in 1882, Canto Nova; and while he continued to write poetry, DAnnunzios first full-length novel in 1889, Il Piacere, provided him with another outlet for his imaginative writings. A series of novels followed, each acclaimed for its blend of naturalism and symbolism. His controversial 1904 drama, The Daughter of Jorio, is said to have influenced contemporary Italian writing, and the debut of the play in New York City in 1907 caused a sensation.
During World War I, DAnnunzio was actively involved on Italys political scene, writing speeches and articles in support of the Allied cause. He enlisted, was made lieutenant, and as a pilot in aerial combat, he became a war hero.
Written by Janice Mancuso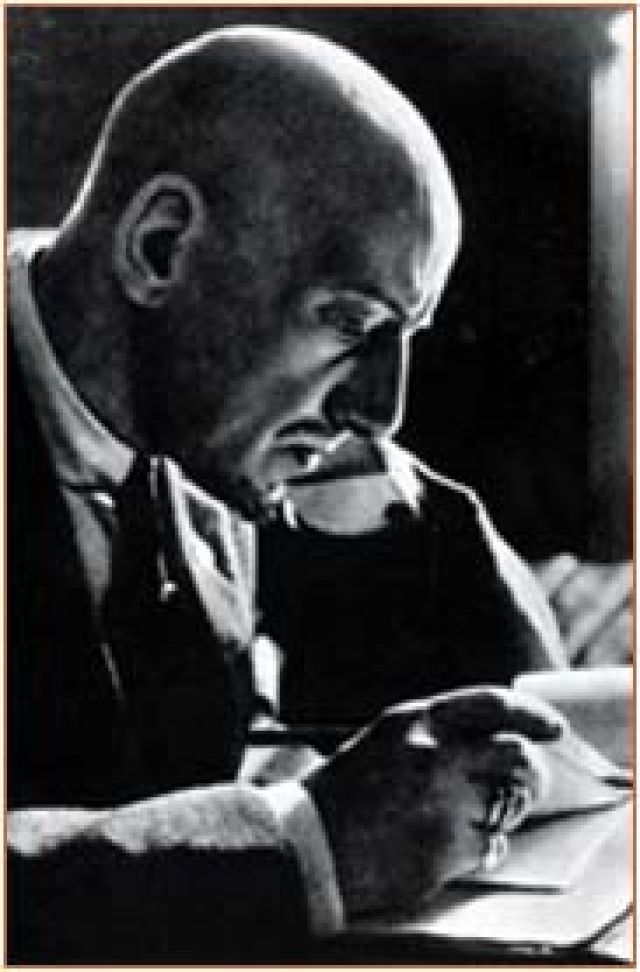 ---
---
Luigi Pirandello (1867-1936)

Recipient of the 1934 Noble Prize in Literature, and hailed as one of the most influential playwrights of the early twentieth century, Luigi Pirandello is the author of over 400 works of poetry, novels, plays, short stories, and critiques.

Pirandello showed an early interest in writing, studied philology – language and literature – and received a Doctor of Philosophy Degree. He taught and wrote, contributing his works to several publications. An arranged marriage to the daughter of his father's business associate was an incompatible match, and when both families lost their wealth, Pirandello's wife suffered severe mental shock. Pirandello began writing for pay, and he was soon successful with his novel, Il Fu Nattia Pascal, (The Late Mattia Pascal).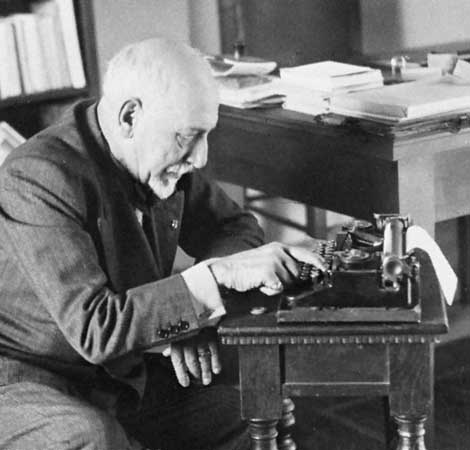 ---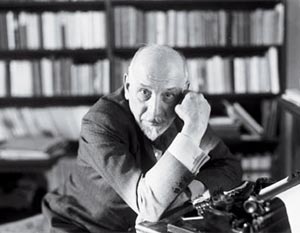 ---
Many of Pirandello's works reflect his philosophies of the irony of life, and combine reality and illusion. His most notable plays include known Sei Personaggi in Cerca D'authore (Six Characters in Search of an Author), Così è (se vi pare) (Right you are [if you think you are]), and Enrico IV (Henry the Fourth). Pirandello is said to have influenced the writing of Samuel Beckett, Eugene O'Neill, and Edward Albee, among many others.
Written by Janice Mancuso



Raphael [Raffaello Sanzio] (1483-1520)

Regarded as one of the three – along with da Vinci and Michelangelo – most influential painters of the Renaissance, Raphael showed an early inclination towards art, influenced by his father who also painted. Raphael was still a child when both parents died, and most sources note that he studied under Pietro Perugino in the early 1500s. (Perugino schooled with da Vinci.) All Raphael's early paintings, most notably Marriage of the Virgin show the influence of Perugino.

Raphael moved to Florence in 1504 and stayed until 1508, studying the works of da Vinci and Michelangelo, further crafting his style, and producing a series of Madonna paintings, including the most well-known, Sistine Madonna.In 1508, Pope Julius II commissioned Raphael to paint murals in several rooms of the Vatican Palace. Under Pope Leo X, Raphael became chief architect of Saint Peter's Basilica, and director of excavations and Rome's antiquities. He continued to paint the Madonna and Child in various settings, and created 10 drawings, known as cartoons, for the Sistine Chapel. Raphael died at 37, on the dame day he was born – April 6th.
Written by Janice Mancuso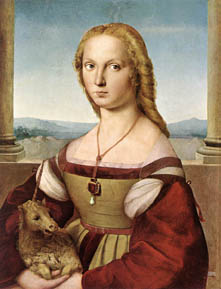 ---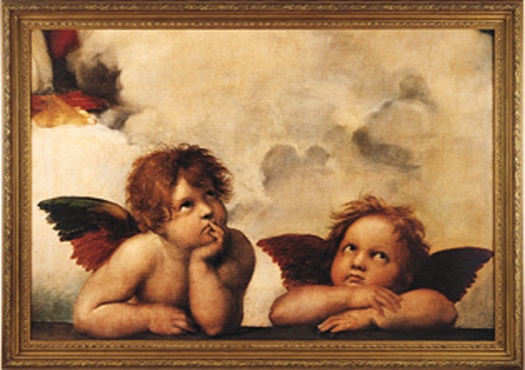 ---
---