Italian Historical Society of America
Composers
Music is one of the foundations of every civilization. Italian composers have added significantly to the musical heritage of the West. Here are some of the many who have contributed to our profound musical heritage.
---
---
Gaetano Donizetti (1797-1848)

One of the most prolific Italian composers of opera, at eight years old Donizetti entered Lezioni Caritatevoli di Musica, a music school in Bergamo (region of Lombardia) started by composer Simone Mayr who was maestro di cappella of the Basilica di Santa Maria Maggiore. In 1815, Donizetti was sent to Bologna to study under Stanislao Mattei at the Liceo Filarmonico. Mattei was a pupil of Giovanni Battista Martini, who was famous for his musical accomplishments throughout Europe and tutor to Wolfgang Amadeus Mozart.

After one year at Liceo Filarmonico, Donizetti wrote his first opera, Il Pigmalione (which did not première until 1960 at the Teatro Donizetti in Bergamo). His first staged opera was the following year, but it was the 1822 Rome debut of Zoraïda di Granata that first earned him public recognition. He followed with a series of operas, among them Lucia di Lammermoor, Anna Bolena, and L'elisir d'amore. Donizetti moved to Paris in 1838, staying until 1847 when he returned to Bergamo. While in Paris he composed the well-known Don Pasquale, and his five-act Dom Sébastien. He died in 1848 and his remains – and those of his mentor Simone Mayr – are in the Basilica di Santa Maria Maggiore.

Donizetti composed many of the major roles in his operas for leading singers of that time, writing his music to be sung bel canto, a style that emphasizes melodic, fluid tones.
Written by Janice Therese Mancuso

Here are some other relevant websites:
Gaetano Donizetti Biography and Compositions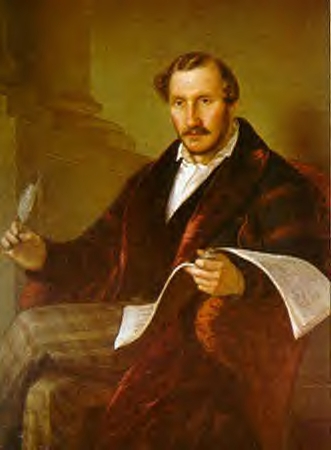 ---
Pietro Mascagni (1863-1945)

---
Most noted for his 1890 one-act opera Cavalleria rusticana (Rustic Chivalry), which introduced verismo (realism) in opera, Mascagni composed 15 operas of diverse styles. He was born in Livorno (region of Tuscany) and took an interest in music in his early teens. He studied music at the Instituto Musicale di Livorno against his father's wishes – Mascagni's mother died when he was 10 – and by the time he was 16, he had composed several works. In 1881, his first cantata was performed at the Instituto and won a musical contest in Milan. A year later, Mascagni entered the Milan Conservatory (Conservatorio di Milano). Mascagni stayed at the Conservatorio until 1885, not completing his studies, but composing several songs and piano music; and toured as a conductor for several operetta companies. The following year, he became director of a new philharmonic society.

In 1890 Cavalleria rusticana, Mascagni's first opera, won a music contest and premièred at the Teatro Costanzi in Rome. The opera, composed from a short story set in a small peasant village in Sicily, became an instant success and within one year was performed throughout the world, with two debuts in New York on the same day. Over the next ten years, Mascagni composed seven operas – two premièred at La Scala, the others throughout Italy – and numerous songs; and he began a worldwide tour. In 1927, he settled in Rome and lived there until he died.
Written by Janice Therese Mancuso

Here are some other relevant websites:
Pietro Mascagni Compositions
Cavalleria Rusticana by Pietro Mascagni – The Opera Guide
Pietro Mascagni – Ave Maria

---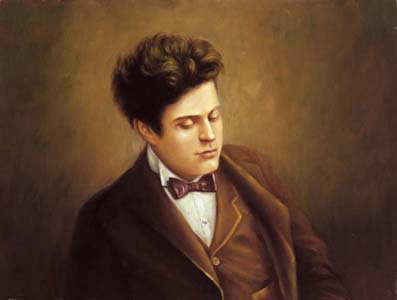 ---
Niccolò Paganini (1782-1840)

---
Considered the greatest violinist ever, Paganini showed his talents at an early age, first with the mandolin and then through his performances and studies with several respected music teachers. In 1795, Paganini studied under Alessandro Rolla, an expert in viola and violin techniques. It is noted that through the flexibility of his hands and his long fingers, Paganini would develop his unusual style that included wide left-hand stretches; double stops (playing two notes at once); and pizzicato (plucking the strings). He also used scordatura (mistuning), ricochet bowing (bouncing the bow against the strings), and a variety of other bowing techniques.

By 1800, Paganini was touring Italy, performing many concerts, most of the time as a soloist. When playing with an orchestra, during rehearsal he would not play his entire piece. Paganini nicknamed his violin, made by Joseph Guarnerius del Gesù, Il Cannone (the cannon), for its vigorous sound. During his career, he had a replica made. After his death, both were left to the city of Genoa where they are on display. To keep it tuned, the violin is played periodically, and the winner of the Paganini Competition – an event that honors the master and assists aspiring violinists – also plays it.

In 1813, Paganini moved to Milan, and performed at La Scala, and throughout Tuscany. He debuted in Vienna in 1828, and in London and Paris in 1831. With his health deteriorating, Paganini returned to Italy in 1834, and died in 1840. During his career he wrote 24 caprices (fast and intense solo violin pieces), sonatas, concerti, and quartets.
Written by Janice Therese Mancuso

Here are some other relevant websites:
Paganini's Daemon: A Most Enduring Legend (video)
Niccolò Paganini Compositions

---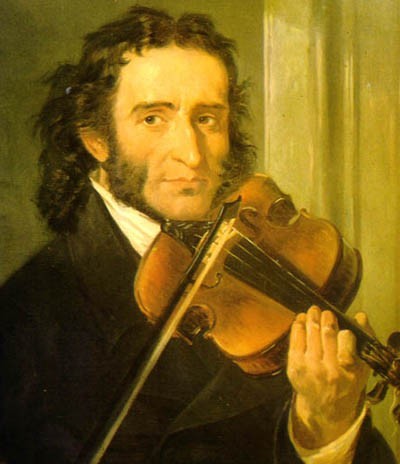 ---
---
Giacomo Puccini (1858-1924)

With an inherent passion, Puccini followed his ancestors in pursuing a musical career. His father Michele, a noted teacher, organist, and composer, died when Puccini was not yet six years old. Puccini studied under his uncle, and played the organ at churches in his hometown of Lucca (region of Tuscany). In 1874, at 16, he entered the Istituto Musicale Pacini, and became a student of Carlo Angeloni, who had been a student of Puccini's father, Michele. Under the influence of Angeloni, Puccini became interested in opera, attended a performance of Aida in Pisa in 1876, and decided to make opera the focus of his career. Puccini received his diploma from the Istituto in 1880 and entered the Milan Conservatory (Conservatorio di Milano).

In Milan, he made important musical and financial contacts, and at the end of his studies there in 1883 he entered a contest, composing a one-act opera. He did not win, but the opera, Le Willis, was well received, and Puccini was offered a contract to compose another opera. While it was not as successful as his first, his third opera, Manon Lescaut, premièred in Torino in 1893 and was staged with great success. Three years later Puccini composed La bohème, followed by Tosca in 1900, and Madama Butterfly in 1904. Today, all three are among the top ten operas most performed in North America. Puccini wrote three more operas, and started another, but died of complications from surgery before completing Turandot.
Written by Janice Mancuso

Here are some other relevant websites:
Giacomo Puccini Compositions
Giacomo Puccini Biography
Giacomo Puccini Profile

---
Gioachino Rossini (1792-1868)

---
Born in Pesaro (Region of Marche), Rossini learned about music at a young age from his parents – both musicians – and wrote his first opera at 14, and his second, a comedy, four years later. He received contracts to write additional operas, with a première at La Scala in 1812. The following year Tancredi debuted in Venice to wide success, leading Rossini to compose another 24 operas in 10 years. During this time he became the musical director of Teatro San Carlo in Naples, writing serious operas for performances there, and comedies for other opera houses.

Two of his most well known operas were written for Naples, Elisabetta, regina d'Inghilterra and Otello, a turning point in musical drama. His operas for Naples contained longer ensembles and an active chorus, with more emphasis on the orchestras; and no overtures. Among his lighthearted operas La Cenerentola (Cinderella) and Il barbiere di Siviglia (The Barber if Seville) are his most popular – both are listed in the top 20 operas performed in North America.

By 1824, Rossini was in Paris as director of Théâtre Italien and composed several operas including Guillaume Tell (William Tell), his last opera – written in 1829 – and considered his best. The opera was written in less than two weeks and is an intricate blend of rich orchestration, numerous ensembles, elaborate processions, and intricate ballets. He returned to Italy, married his second wife in 1846, and went back to Paris in 1855, living there until his death in 1868. His remains were moved to the Basilica di Santa Croce in Florence. Throughout his career, Rossini wrote numerous cantatas, instrumentals, and sacred music.
More information
Written by Janice Therese Mancuso

Here are some other relevant websites:
Gioachino Rossini Compositions
Gioachino Rossini Biography

---
Giuseppe Verdi (1813-1901)

Showing an interest in music by the time he was seven – his first instrument was a spinet – at 12, Verdi studied in Brusseto (near Parma) under Ferdinando Provesi, music teacher, organist, and director of the local Philharmonic Society. As his assistant, Verdi played the organ, wrote and composed music, and conducted rehearsals. After Provesi's death, Verdi applied to the Milan Conservatory, but was not admitted. Most sources state that Verdi was over the age limit, and others add that his style was already established. (Interesting side note: The Milan Conservatory [Conservatorio di Milano] is now also known as the Conservatorio di Musica "Giuseppe Verdi.") Verdi was advised to seek private lessons with Vincenzo Lavigna, a composer with connections to La Scala. During his stay in Milan, Verdi attended and studied operas and plays and joined the Philharmonic Society.

Verdi returned to Brusseto in 1836, married, took over most of Provesi's duties, and wrote his first opera, Oberto, which was performed in 1839 at La Scala. He received a contract to write several more operas – the first being a comedy – but by following year, his two children and wife had died, and Verdi's work was affected. In 1842, his opera Nabucco premièred with great success, and Verdi's career as a composer of opera was established. In 14 years, he wrote 15 operas, among them Ernani, Macbeth, Rigoletto, Il trovatore, and La traviata.

In 1868, Verdi wrote a symphony, that was to be part of a collection from various composers of a requiem, for Gioachino Rossini, but the collective piece was not completed. Several years later Verdi composed a Requiem of his own, in honor of poet and author Alessandro Manzoni, who died in 1873.

One of Verdi's most well known operas, Aida, was composed in 1871. Like many of his other operas it is considered a standard, and in 1998 the score was rewritten to appeal to a wider audience.
Written by Janice Therese Mancuso

Here are some other relevant websites:
Giuseppe Verdi Compositions
Giuseppe Verdi [Opera 101]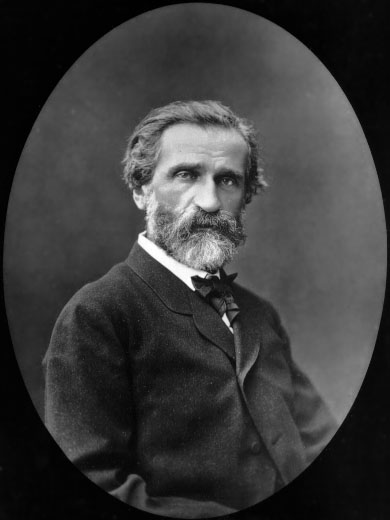 ---
Francesca Caccini (1587- c.1645)
Surrounded by music, Francesca Caccini would pursue a musical career, taking her from singing with her father to becoming the first woman to compose an opera. Her father was Giulio Caccini, who worked with Jacopo Peri to write and perform in one of the first operas, held in celebration for the wedding of Maria de' Medici and Henri IV of France in 1600.

Giulio Caccini (1551-1618) started singing as a child and in his teens became a musician for the Court of Francesco de' Medici, Grand Duke of Tuscany. In the early 1570s, Caccini became a member of Camerata Fiorentina, a group of musicians, writers, and scholars who believed the culture of ancient Greece should be the foundation for future artistic endeavors. (Vincenzo Galilei, the father of Galileo, was a participant in the group.) Their discussions about the development of music brought a new form of the art – Baroque, a blend of melodies and progression of harmonies integrated with a larger orchestra, all combined to create new musical arrangements.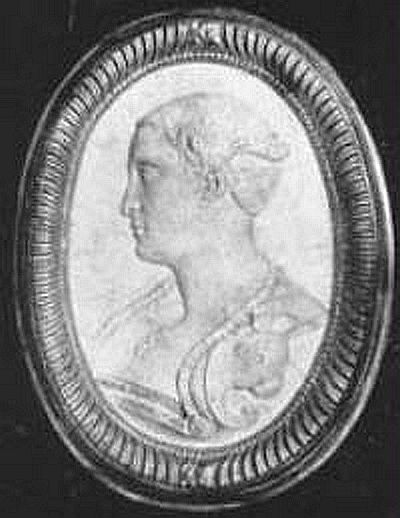 ---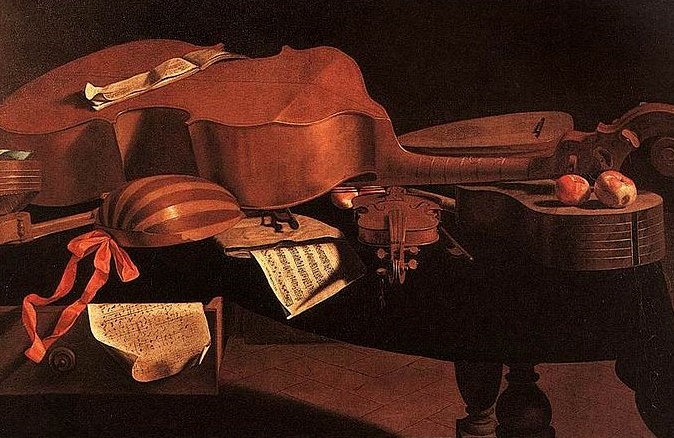 ---
The early Baroque period greatly influenced the work of Francesca Caccini, as her father's involvement in Camerata Fiorentina provided the basis for her musical education. In addition to her father's talents as a singer, composer, teacher, and instrumentalist – playing the harp, lute, and viol, a string instrument – her entire family was musically inclined. Her mother, Lucia di Filippo Gagnolanti, sang in the Medici court, and after their marriage (in 1584), Giulio and Lucia became a well-known singing couple.

The couple included their children in court performances and festivals: Francesca; her younger sister, Settimia – who would later become a successful soloist; and her older half-brother, Pompeo. Lucia died in 1593, and Giulio remarried several years later to another singer, Margherita Benevoli della Scala, adding a third daughter to the family in 1599. The family performances continued during the early years of Giulio's second marriage.

It's noted that Francesca had an excellent education. Brought up under the influence of the Medici court, her schooling was based on the humanistic views of the Renaissance and included languages, literature, astrology, geometry, and philosophy. Under the tutelage of her father, she became an acclaimed singer, learned to play keyboard and several string instruments, and studied music composition. She combined her knowledge of language and literature with her musical career, writing the lyrics for many of her songs.

Francesca's performances brought several offers of employment, but she stayed – and earned a salary – in the Medici court for almost 20 years. In addition to performing, she taught and composed music. In 1607, she married Medici court musician Giovanni Battista Signorini. That same year, she wrote the music for La Stiava, a staged play written by Michelangelo Buonarroti the Younger, who admired her work and had recommended her for the project. In 1618, Il primo libro delle musiche, her collection of 32 songs composed in various arrangements, was published in dedication to Cardinal Cosimo de' Medici, the son of Grand Duke Ferdinando I and Christine de Lorraine.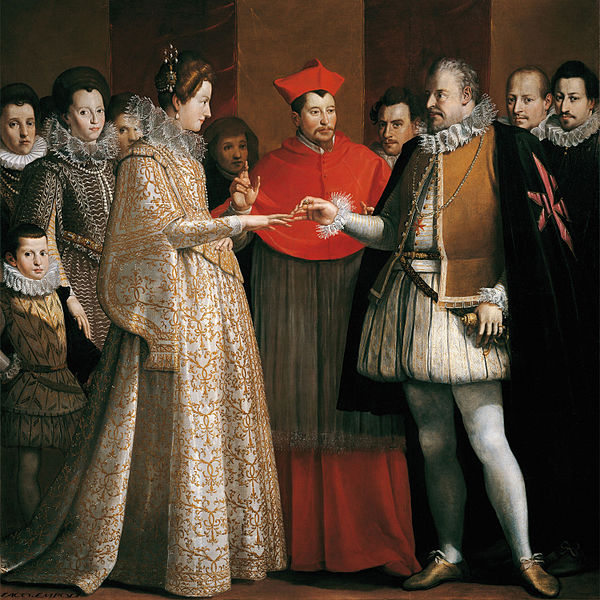 ---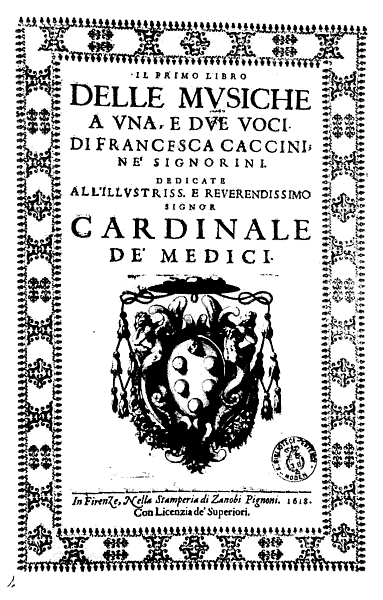 ---
In 1622, Francesca and Giovanni had a daughter. Two years later, she was commissioned to write the music for the four-scene musical production, La liberazione di Ruggiero dall'isola d'Alcina, performed in 1625 and the first opera written by a woman. The following year, Giovanni died and Francesca left the court of Medici. She remarried, had a son, and was widowed again in 1634. She returned to Florence, retiring several years later. Some sources state she died in 1641, while others set the date in 1645, the year guardianship of her son was transferred to an uncle.

The only documented image of Francesca is a picture of a cameo published in a music culture periodical dated in 1922. The periodical was found in a palace in Pistoia, located about 25 miles northeast of Florence.

Written by Janice Therese Mancuso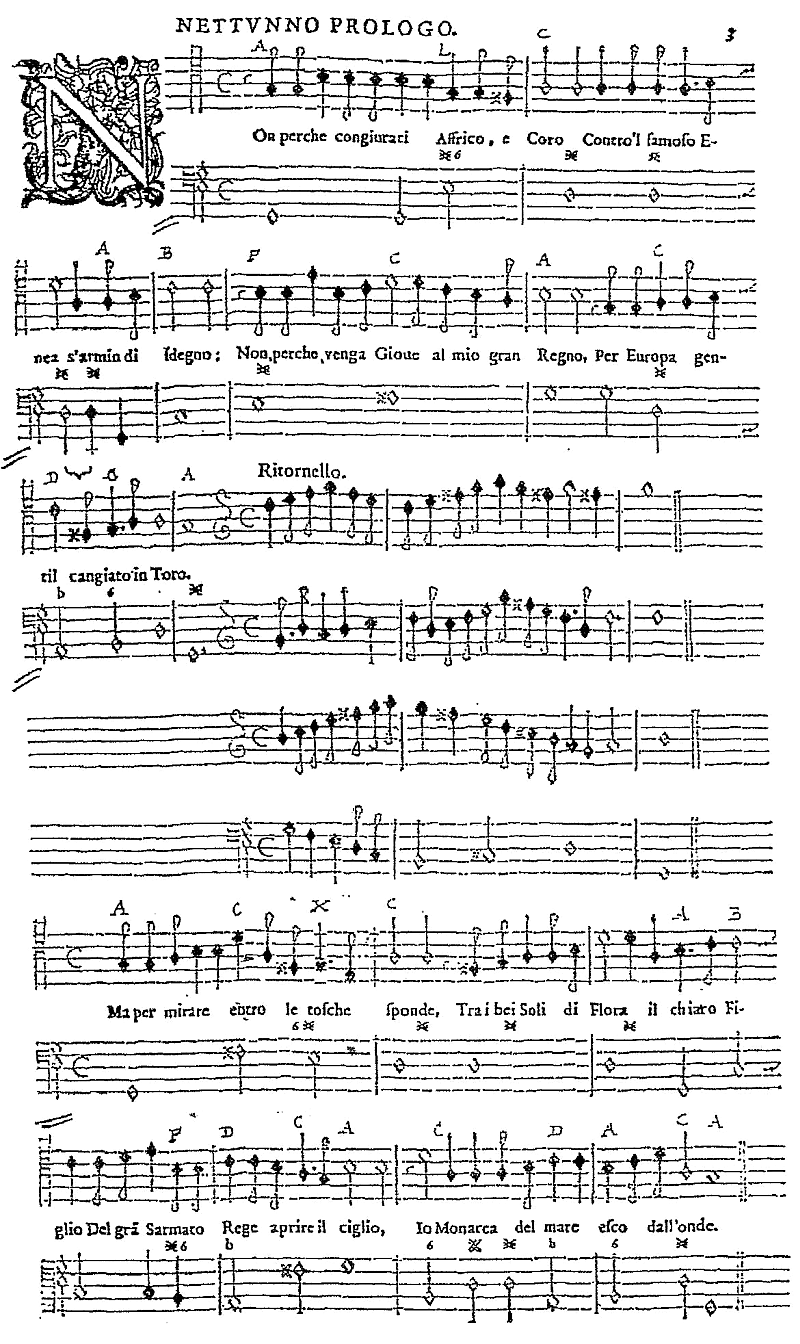 ---
---
Barbara Strozzi (1619 - 1677)
With her musical talent and business skills centered in a lively social atmosphere of artistic creativity, Barbara Strozzi flourished as a singer and a composer. Born in Venice to Giulio Strozzi and Isabella Garzoni, Barbara gained the acceptance of a liberal group of intellectuals, and became the most prolific composer of the seventeenth century.

Her father, Giulio Strozzi, was a poet and playwright, and also credited as one of the first librettist, a writer of text for an opera or musical play. He was a member of the Accademia degli Incogniti, an association of liberal thinkers, and founded several artistic/intellectual academies attended by those in the arts, along with clerics, historians, and philosophers. Barbara's parents were not married when she was born, but they lived together and Giulio took full responsibility as her father, legitimizing her in his will in 1628.

Barbara's childhood was filled with music, and her father awarded her with many opportunities to become successful in that field. In her mid-teens, Giulio made arrangements for Francesco Cavalli to be her music teacher. Cavalli was a prominent composer, providing numerous works for the newly staged operas that were becoming a popular form of musical performances, once only for the royal and now available to the public. Cavalli had worked with Claudio Monteverdi – as did Barbara's father – and was Maestro di Cappella (Director of the Choir) at Basilica San Marco, a position Monteverdi held during his musical career. (Cavalli also trained Antonia Bembo.)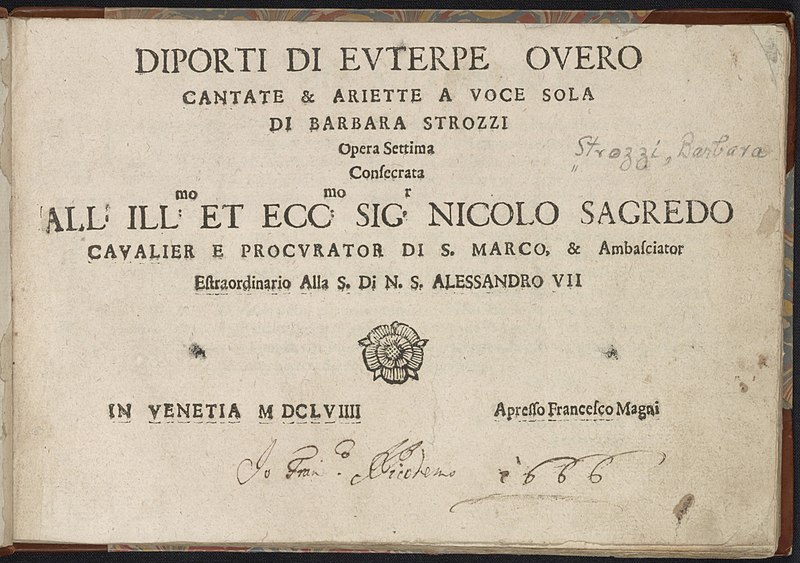 ---
The Accademia degli Incogniti would become a stage for Barbara to showcase her talents. Her father brought her to meetings, and she would sing, not only impressing the distinguished members, but also promoting her talent. In 1635, one musician dedicated a collection of songs to her, inspired by her voice. In the family home, she performed for guests, and when Giulio started Accademia degli Unisoni – a more specialized version of Incogniti – Barbara sang and served as a leader of the meetings, choosing topics for discussion and participating in the conversations. Considering social norms of the time, it was an unusual position for a woman, but Barbara was comfortable and gained more confidence in her musical work and business capabilities. According to several sources, Barbara was a wise investor: she earned interest on government investments and made loans earning business-rate interest.

In 1644, Barbara's first composition, Il primo libro de'madrigali, set to a poem by her father and dedicated to the Grand Duchess of Tuscany, Vittoria della Rovere, was published. By that date, Barbara had given birth to a son and two daughters, the children of Giovanni Paolo Vidman – a friend of her father and a married man. Some time before 1651, Barbara had another son, but the parentage of his father has not been documented.

In 1651, Barbara's second collection, Cantate, ariette e duetti, was published, dedicated to Ferdinand III of Austria and Eleonora Gonzaga. After her father died in 1652, Barbara increased her musical productivity, releasing four collections from 1654 to 1659, and her last in 1664, each dedicated to royalty or a noble. Some note that she may have been attempting to gain a position or a benefactor, but no account of patronage has been recorded. During this time, she also produced works with other composers.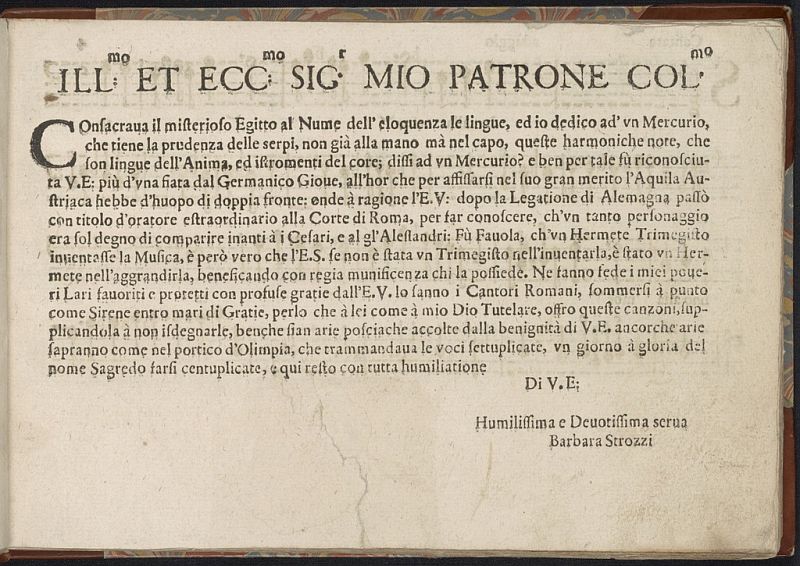 ---
Many of Barbara's pieces were written for a soprano – which was her singing voice – and most were secular. She composed during the middle Baroque music period, a time when harmony was becoming more vibrant and tempo was more dynamic, increasing the dramatic tone of the piece.

Barbara lived in Venice until 1677, when she traveled to Padua. Six months later, she died in Padua and was buried at the Church of Eremitani. The portrait of Barbara was painted by Bernardo Strozzi (1581-1644, born in Genoa; his relation to the Strozzi family in Venice is not clear.) The date of the painting ranges from 1630 to 1640; Barbara Strozzi was born in 1619.

Written by Janice Therese Mancuso

---
Antonia Padoani Bembo (c. 1640 - c. 1720)
The daughter of a doctor and married into an Italian noble family, Antonia Padoani Bembo was forced to leave Italy, but found peace writing her music – including an opera – in Paris, where she was admired by King Louis XIV who supported her work by providing a pension and housing.

Born in Venice to Giacomo Padoani and Diana Paresco, Antonia showed signs of her singing in soprano and other musical skills at a young age and was tutored by Francesco Cavalli, Maestro di Cappella (Director of the Choir) at Basilica San Marco. (Cavalli also trained Barbara Strozzi.) In addition to music, Antonia's father provided her with an education in languages and literature: both religious and classic; and to secure her future – when Antonia was in her early teens – he made an attempt to arrange her marriage to Francesco Corbetta, a renowned teacher and composer who excelled at playing the Baroque guitar. Although Corbetta was part of the Court of Mantua, he traveled to other countries to perform, and it's noted that he may have tutored Antonia.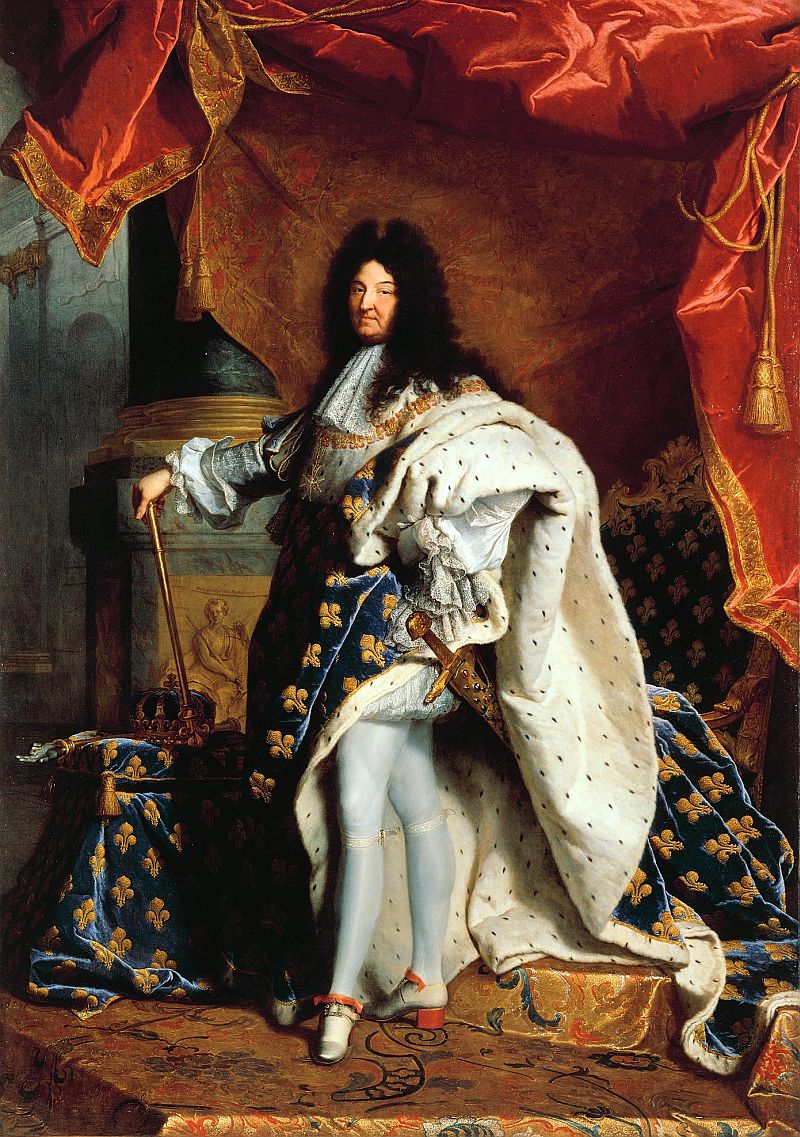 ---
The marriage between Antonia and Corbetta did not occur, and in 1658, Giacomo signed a wedding contract for Antonia to marry Lorenzo Bembo. Lorenzo was from a prominent Venetian family, dating back to the early 1400s, and included Pietro Bembo (1470 - 1547), born in Palazzo Bembo (now a museum with guest rooms on the top floor). Pietro was the leading scholar in developing the Tuscan dialect into the Italian language, and corresponded with both Veronica Gambara and Vittoria Colonna, two prominent women writers of the early sixteenth century. Pietro was also a poet – with his words set to music – and was named a cardinal by Pope Paul III in 1538.

The marriage contract for Antonia and Lorenzo specified each family paying the same amount as a dowry and wedding gift, along with the couple living with Antonia's parents for two years. They married in 1659, but within the year, Giacomo presented a written request for Lorenzo to leave for the suffering he was causing. The bickering continued, and Giacomo moved instead. Antonia and Lorenzo had three children – a daughter and son born in the house – and a second son born in 1666. (Giacomo died six months before his third grandchild was born.) Shortly after the birth of his second son, Lorenzo joined with other nobles of the Venetian Republic in the War of Candia, the fifth in its battle against the Ottoman Empire.

With Lorenzo gone, her father dead, and three young children to care for, Antonia had financial difficulties. Lorenzo returned to Venice in 1669 and was called back to service the following year. Financial hardship, along with cruelty, infidelity, negligence, and theft were charges Antonia filed against Lorenzo for a divorce in 1672. He denied all, and the divorce was not granted. Soon after her mother died in 1676, Antonia made plans to leave the marriage, but a woman traveling alone – especially someone publicly known – would be at risk.

From all accounts, she had assistance from Francesco Corbetta, who had a pass to travel freely as an "Italian musician;" and her escape during Carnivale season may have included wearing a mask. On the eve of her getaway, her daughter was sent to a convent, and Antonia's belongings, much from her inheritance, were secured as payment. It is believed her sons stayed with their father.
Through Corbetta's connections in Paris, Antonia was introduced to the court of Louis XIV. She had heard stories about him from Corbetta 20 years earlier and had talked about her admiration for the king. Corbetta also arranged for her to stay with members of the Comèdie Italienne (the French term for commedia dell'arte). In 1682, Antonia was granted an official order by the king to receive a pension and housing at Petite Union Chrétienne des Dames de Saint Chaumont. It was there that she sang and composed the collections of late Baroque music, secular and sacred – many based on her personal experiences – combining Italian and French styles, and written for a soprano. She dedicated and presented her collections to members of the royal family. In 1707, Antonia composed the opera L'Ercole amante, previously set to the music of Francesco Cavalli, her former tutor.

Antonia never returned to Venice; she died in France in 1720. (In 1691, Lorenzo was imprisoned (for embezzlement) in the jail accessed by walking over the Bridge of Sighs; he died in prison in 1703.)
Written by Janice Therese Mancuso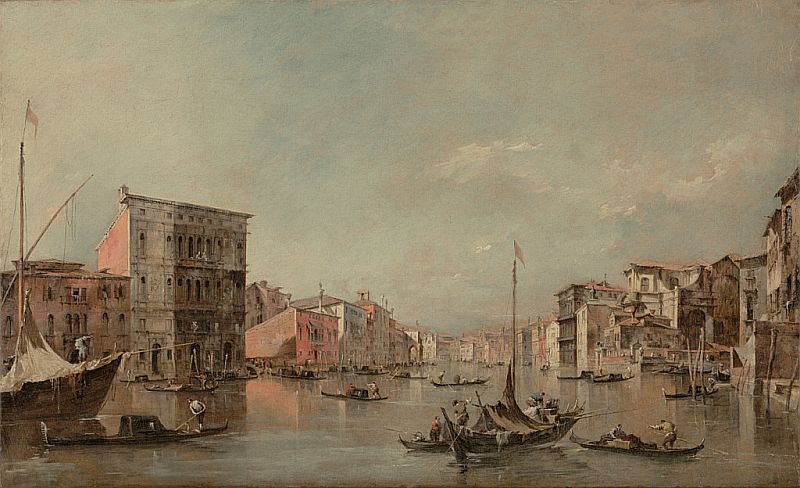 ---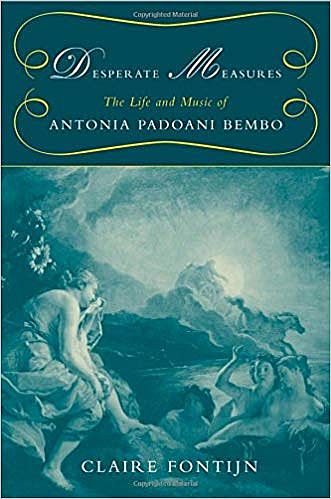 ---
---
---